Our website has a list of almost all the best and most important Specialist Doctors in Apollo Hospitals, our website has a list of specialist doctors for you, such as Dermatology Specialist Doctors, Venereology Specialist Doctors, and dental surgeons, pediatricians and adolescents, bone joints and surgeons, nose, ear, throat specialist, medicine specialist, mouth and dental specialist, Dermatologists and obstetricians, cardiologists and obstetricians, pediatricians and pediatric surgeries, Mansi Disease specialist, eye disease specialist, maternity and gynecologist, nose, ears and throat disease specialist and surgeon, Surgery, General Surgery, Orthopedics, doctors with another important list, contact phone number, the time to see patients, and address supplied.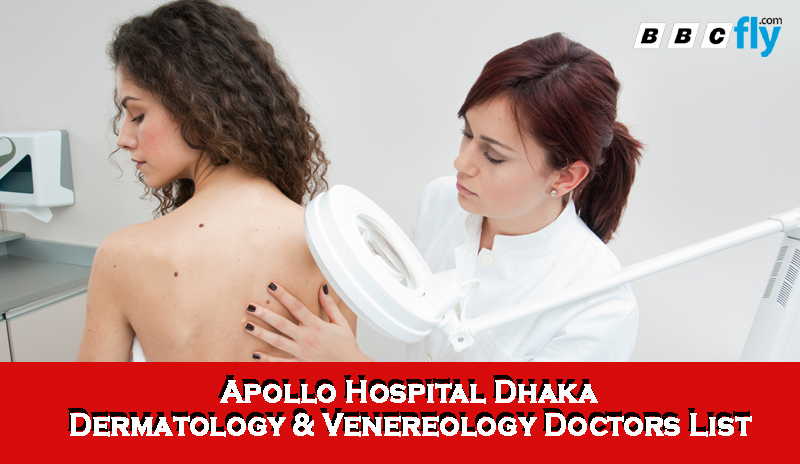 Now we will tell you the Apollo Hospitals Specialist Doctor List, and Contact Number. We collect the latest updates for our visitors. All information is collected through the official website and contact at Apollo Hospitals Dhaka. But authorities can change any information, including their contact phone number, at any time for any issue.
Cardiology Specialist Doctors List
Department of Dermatology & Venereology of Apollo Hospitals Dhaka provides advanced diagnosis and management of diseases of the skin, hair and nails, as well as venereal (sexually transmitted) diseases. 
The Department aims to deliver the highest quality of care to patients with skin disorders, including skin cancers, immune and allergic processes (e.g. psoriasis, atopic dermatitis), diseases of other organ systems with skin manifestations and venereal diseases. We provide both adult and paediatric dermatological services, as well as cosmetic dermatology.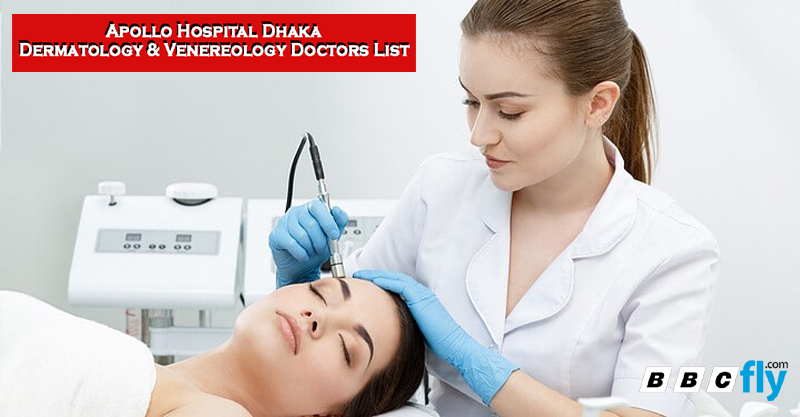 The department applies the latest advances in dermatology in an atmosphere of compassion and respect. We have advanced Laser Centre, Phototherapy Centre, specialized Skin Rejuvenating Program, and we perform procedures like electrocautery & electrosurgery, cryosurgery, intralesional injection, dermoscopy, iontophoresis, and skin biopsies.
Consultant in Department of Dermatology & Venereology:
Dr. Jasmin Manzoor
MBBS, DDSc (UK), MDSc (USA)
Senior Consultant & Coordinator – Dermatology
Days: Sat-Thurs & Time: 9:00 AM - 5:00 PM
Chamber: Apollo Hospitals Dhaka,
Phone Number: +88-02-55037242 & +88-09606-276555
Professor Lt. Col. (Retd.) Dr. Q.M. Mahabub Ullah
MBBS, FRCP (Glasgow), DDV, MCPS, MD
Senior Consultant – Dermatology & Venereology
Days: Saturday to Thursday & Time: 09:00 AM - 5:00 PM
Chamber: Apollo Hospitals Dhaka,
Phone Number: +88-02-55037242 & +88-09606-276555
Dr. Rubaiya Ali
MBBS, Diploma in Dermatology and Venereology, FCPS (Dermatology and Venereology)
Consultant – Dermatology.
Days: Sat-Thurs & Time: 9:00 AM - 5:00 PM
Chamber: Apollo Hospitals Dhaka,
Phone Number: +88-02-55037242 & +88-09606-276555
Prof. (Dr.) Hasibur Rahman
MBBS, FCPS (Dermatology & VD), MRCPS (Glasgow), FACP (USA), FRCP (Edin)
Consultant – Dermatology & Venereology
Schedule: Days: Friday & Saturday & Time: 9:00 AM-12:00 PM & 2.30 Pm- 5.50 Pm
Chamber: Apollo Hospitals Dhaka,
Phone Number: +88-02-55037242 & +88-09606-276555
Dr. Ajay Abrol
MBBS, MS (Gen. Surgery), M. Ch. (Plastic Surgery)
Coordinator & Senior Consultant – Plastic, 
Reconstructive & Cosmetic Surgery
Schedule: Time: 09:00 AM - 5:00 PM
Chamber: Apollo Hospitals Dhaka,
Phone Number: +88-02-55037242 & +88-09606-276555
Consultation & Appointments
The department provides consultation services in Block F level-4 (OPD) through highly qualified and experienced Consultants, who carefully evaluate each patient. After diagnosing the patient's condition, our Consultants discuss available treatment options and recommend the most effective treatment.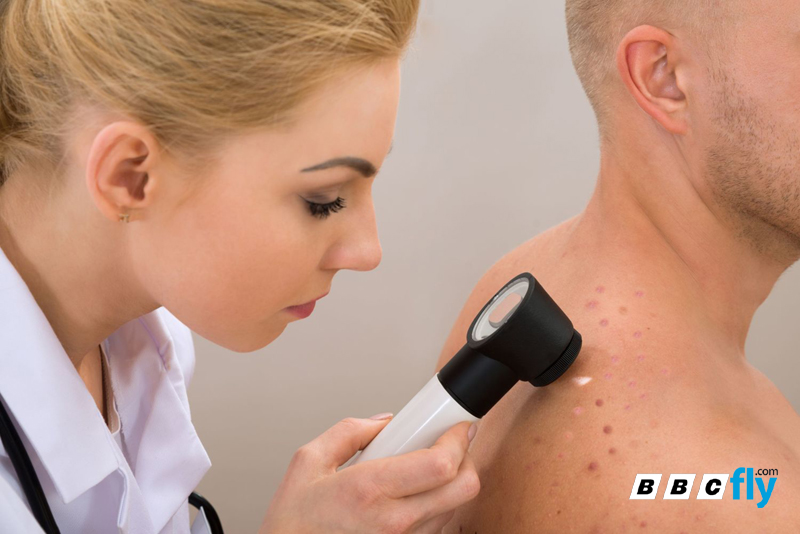 Apollo Hospital Address, Location and Contact Number
Category: General Hospital
Specialty: Accident & Emergency, Anaesthesiology,
Cardiology, Cardiothoracic Surgery, Critical Care Dentistry
Address: Plot # 81, Block # E, Basudhara R/A, Dhaka - 1229, Bangladesh
Duty Manager: 01713-064563 
APPOINTMENT :10678
0255037242, 09606-276555 
PABX : (02) 8431661-5 
Ambulance : 01714-090000 
Master Health Check : 028431600 
Email: [email protected]
Web: https://apollodhaka.com
ROLE OF DERMATOLOGY
The skin is the largest and most visible organ of the body and acts as a barrier. However, because the skin is more than just a simple wrapping for the body, it is also subjected to many diseases. At one time or another nearly everyone has had some type of skin disease. This is when dermatology and its practitioners, called dermatologists, play an important role.
Disease of the skin affects all age groups – infants, teenagers, adults, and the aged
The dermatologist uses a variety of therapeutic tools from antibiotic to scalpel. In fact, dermatologists perform more minor surgeries than a surgeon
Skin diseases are often associated with internal conditions of the body
It is good to see a dermatologist as soon as possible when symptoms of skin disease appear
The dermatologist has to be familiar with skin problems related to general medicine, obstetrics & gynaecology, paediatrics, endocrinology, eye, and ENT.
Expert diagnosis, rapid cure, or good management means decreased cost and less suffering
CONDITIONS TREATED
The Department of Dermatology provides medical, cosmetic, paediatric, and surgical dermatology services for all types of skin, hair and nail problems, as well as sexually transmitted diseases. Consultations, as well as diagnostic and clinical services, are provided by our department for the maintenance and treatment of these conditions. We provide advanced treatments for hundreds of dermatological & venereal conditions including the following:
 
Acne
Actinic keratosis
Age spots & fine lines
Allergies
Alopecia areata (hair loss/baldness)
Arterial leg ulcers
Bacterial infections
Benign skin growths
Birthmarks
Blistering diseases
Botox
Burns
Cancer of the skin
Calluses & corns
Candidiasis (Yeast infection)
Carcinoma
Dermatitis
Diabetic leg ulcers
DPN (Dermatosis Papulosa Nigra)
Drug reactions
Dry Skin
Eczema
Erythema
Facial imperfections
Folliculitis & carbuncles
Freckles
Fungal infections
Granuloma annulare
Hidradenitis supparativa
Hydrafacial
HIV (AIDS) related skin problems
Hyperhidrosis (excessive sweating)
Impetigo
Inflammatory acne nodules
Ingrown hairs

Keloid
Keratosis pilaris
Latex Allergy
Lesions (precancerous/cancerous)
Lichen planus
Lupus
Lyme disease
Lymphoma
Melasma
Melanoma
Merkel cell cancer
Micro needling
Moles
Molluscum contagiosum
Nail infections
Photoaging & photo damage
Pityriasis rosea
Pruritus (itching)
Psoriasis
Psoriatic arthritis
Rosacea
Sarcoma
Scabies
Scars
Scleroderma
Sebaceous cysts
Seborrhea (dandruff)
Sexually transmitted diseases
Shingles (Herpes Zoster)
Skin pigment disorders
Skin tags
Skin tumours and growths
Staphylococcal scalded skin
Stretch marks

Tinea versicolor
Toxic epidermal necrolysis
Tumours
Unwanted body hair
Urticaria/ hives
Venous leg ulcers
Venous stasis
Vitiligo (loss of skin colour)
Viral infections
Warts (body wart, hand wart, planter wart and genital wart)
Wrinkles
SERVICES & FACILITIES
Our services are provided through advanced facilities and programs:
Electrocautery & Electrosurgery
Electrocautery and Electrosurgery are surgical techniques which involve introducing high frequency current to a specific area of the body in order to remove or cut unwanted tissue. In Dermatology, these techniques are used for the removal of moles, warts, skin tags, and other skin growths.
Cryosurgery
Cryosurgery is the procedure which involves the use of liquid nitrogen in subzero temperatures for treating body warts, hand warts, planter warts, genital warts, moles, skin tags, solar keratoses, and small tumours or skin cancers.
Intralesional injection
Intralesional injection is the direct delivery of medication percutaneously into specific skin lesions to treat local tissues with minimal side effects. It is used for the treatment of diseases like keloids, Alopecia areata (hair loss/baldness), prurigo nodularis, lichen planus, discoid lupus erythromatosus, and inflammatory acne nodules.
Laser Procedures
Laser treatment involves the application of a strong laser beam of light for treatment of the skin. We are using laser treatment for the removal of scars, birthmarks, tattoos, unwanted hair, superficial leg veins, stretch marks, and acne scarring, as well as treatment of rosacea, facial blood vessels, pigmentation, age-related cosmetic problems, etc.
Skin Biopsies
A skin biopsy is a procedure in which a small piece of living skin is removed from the body for microscopic pathological examination, to establish a precise diagnosis of the skin condition. We utilize different types of skin biopsies, including punch biopsy, shave biopsy, excision biopsy and incision biopsy.
Dermoscopy
Dermoscopy is a technique for advanced skin examination using magnification and illumination, applied extensively for mole screening and cancer diagnosis. Dermoscopy not only diagnoses pigmented skin lesions and melanoma, but also a whole variety of dermatoses, including infections and inflammatory conditions.
Phototherapy
The department is equipped with latest PUVA (Psoralen plus ultraviolet light) and narrow band UVB chambers to give phototherapy to patients with psorosiasis, vitiligo, and sometimes in other dermatological conditions. Equipped with hand and foot unit, the PUVA machine is also used for treating localized diseases.
Iontophoresis
Iontophoresis is a process which increases the penetration of drugs into surface tissues by the application of an electric current. It is used with greatest success in the treatment of hyperhidrosis (excessive sweating) of the hands and feet.
Skin Rejuvenation Programme
Our specialized Skin Rejuvenation programme involves glycolic acid peel treatment, which is a specific technique for skin renewal. Essentially, the glycolic acid peel is a controlled removal of surface skin cells that act as a stimulus for renewal of the skin and an improved skin appearance. Performed under supervision of a physician, the treatment is especially designed with products formulated to provide the stimulus for "renewal" of your skin. The process begins with the removal of the damaged layer of skin which lies over the undamaged skin. This removal of the damaged dead cell layer initiates rebuilding and reconstructuring of the deeper skin cells, resulting in skin which appears healthier, plumper and tighter. Glycolic acid is part of the alpha hydroxiacids (AHAs) group of naturally occurring "fruit acids". Leading dermatologists and plastic surgeons worldwide have long appreciated the positive results of AHA treatments. Numerous clinical publications have also shown the benefits of AHA in improving skin appearance.